Top Hand Award
The Permian Basin Petroleum Association (PBPA) formed in 1961 to advocate for the safe and responsible production of oil and gas resources in the Permian Basin. The importance of the Permian Basin as a producing region has never been higher. The PBPA leads the charge on many important issues protecting our right to operate. The PBPA works hard in the capitals of Texas, New Mexico, and even our nation to protect the interests of the Permian Basin oil and gas industry.
The Top Hand award exemplifies the best in all the characteristics of our leaders in the Permian Basin. A Top Hand has not only achieved success in the field, but exemplifies the characteristics of leadership, stewardship, and community involvement.
The PBPA Top Hand award is the highest honor distributed by the PBPA each year. This award is given to acknowledge the tremendous contributions individuals have given to the oil and gas industry and the communities of the Permian Basin.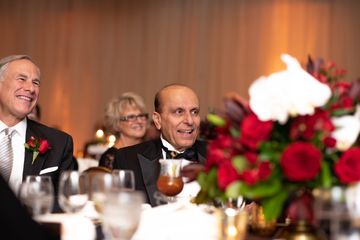 2018 Top Hand Award Winner
Join us in congratulating our
2018 Top Hand Award Winner:
S. Javaid Anwar
Midland Energy Inc. and Petroplex Energy Inc.
Past Top Hand Award Recipients
Carlton E. Beal, Jr.
Barry A. Beal
Spencer E. Beal
Kelly S. Beal
Mack C. Chase
Curtis W. Mewbourne
Howard Parker & Joe Parsley
Honorable Donald L. Evans
Scott Sheffield
Tim Leach
The Honorable Tom Craddick
Arden & Rosalind Redfern-Grover
Ted Collins, Jr.
Cloyce Talbott & Glenn Patterson
Jim Henry
L.D. "Buddy" Sipes
Tom L. Brown
Arlen L. Edgar
John F. Younger
Myra Robinson
Todd Aaron
Decker Dawson
Clayton W. Williams, Jr.
Mac O. Boring, Jr.
Cy Wagner & Jack Brown
John L. Cox
Robert M. Leibrock
George Gipson
Joe Pevehouse
Carlton Beal, Sr.
Joe B. McShane, Jr.
Joseph O'Neill, Jr.
C.W. "Claude" Brown
Robert O. Anderson
John E. Reid
Charles Perry
Ed Thompson
Ben Alexander
Eddie Chiles
John P. Butler
Stanley Moore
Join us at the Next Top Hand Award Banquet!
For more information, email us at...